It was a week of broken stereotypes; a week of sunny weather and good food; a week of interesting conversation and new acquaintances; a week, spent in a fairy tale world or a Harry Potter town – usually depends on the generation of the person making the statement; and finally, an evening, spent in the good company of Professor Bill Cornish and his lovely wife Lovedy, learning about music in the UK and wine in New Zealand.
Sure, we found out about 'showers of rain' in England, a phenomenon with which the four Slovenes were previously mostly unfamiliar. If it rains in the morning in Slovenia, you can bet your bottom dollar it is going to rain all day (and, possibly, night, and then the next day, too). Similarly, waking up to bright sunshine in dreamy Cambridge inevitably led to the Slovene team leaving the comfort of our rooms inadequately prepared for the English weather and ending up wet, nursing a cup of tea in the law faculty cafeteria, only to look through the window to see the sunshine emerging again – as if it were always there. We quickly adapted, though, and some of us even ended up bringing an umbrella home as a personal souvenir.
But we must digress, for we were, for the most part, extremely lucky with the weather. Right from the start, when we arrived in sunny London, the jackets were off and the collective decision not to bring winter coats was praised.
We managed to squeeze in two short tours of London before the meeting at the Inner temple the next day – one in the evening, to admire the nightlife and the city lights, and one in the morning, to enjoy the city parks and other sights. Granted, riding the bright red double decker bus is an experience in itself, and, naturally, the only correct way of riding it is on the upper deck, no matter the distance (or the age, for that matter).
It was soon time to meet the Inner Temple Sub Treasurer, Mr Patrick Maddams, for tea before lunch, and we talked about Magna Charta, knights Templar, the London Inns of Court and the legal profession in general – especially in judiciary, there are many differences between what we are taught (and used to) and the English system. We got an even better view into the works of English courts when Ms Jennie Collis escorted us to the Royal Courts of Justice where we witnessed a proper court proceeding – which was surprisingly reminiscent of a certain earlier experience in Warsaw. A supreme court judge, Lord Hughes, later took us to one of the many wonderful meeting rooms of the court, full of books and old furniture, where we discussed the role of the judge in England and past as well as potential changes in their judicial system (Supreme Court as a new, yet not so new institution, the talks of bringing the judicial bench lower in the courtroom … some things important, some just interesting). It was a unique opportunity, speaking with someone with as much practical experience in a background so different from ours. We got another chance at that at a lecture in the evening, followed by a drinks reception and meeting the older, as well as younger, members of the Inner Temple. The time flew by and we had to fetch our briefcases and leave the bright lights of London for the green meadows of Cambridge.
Two Pizza hut pizzas later we had our – only! – share of dubious cuisine for the week, and we were off to Cambridge, where we were hosted by the Emmanuel college for the week. We experienced it all: the full English breakfast in the morning, punting on river Cam (by experienced punters, as it was already too late in the year to risk falling into the water ourselves), getting lost in bookshops, running late for classes. All this, combined with our enthusiasm for classes, made us virtually indistinguishable from other Cambridge students, or at least that's what we told ourselves. It is a student city, after all, and who wants to look like a tourist? We even found a friend on one of our first days there – a huge furry dogue de bordeaux sweetheart named Toulouse, who kept his owner company as he advertised rides on river Cam.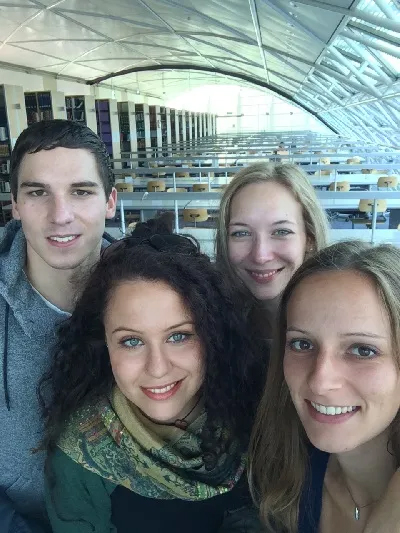 Ms. Ann Smith kindly provided us with a schedule, which included a tour of Lord Foster's wonderful library (a name that came up a bunch of times during that week, almost as often as the question: "Have you gone punting yet?"), a lunch with Professor Fentimen (which included a cup of delicious, freshly ground coffee and a story or two about the Queen Mother, as well as a tour of the extraordinary Queens' College) and Jonathan Morgan (at the breath-taking Corpus Christi college) and a cup of coffee with Professor Kenneth Armstrong in his office, which included an informative discussion about the EU institutions, the old traditions of Cambridge University and the lovely, still blooming gardens of his college (Sidney Sussex). We certainly hope that he enjoyed the exchange even partly as much as we did, since it is always wonderful to have such interesting people, dealing with all aspects of EU law, involved in the experience that is CEEMC!
And finally, speaking of great people who make CEEMC the priceless learning opportunity that it is, on our last afternoon in Cambridge we were warmly welcomed by Professor Bill Cornish (even after one of ours went right for the driver's seat when invited into his car). He showed us the Magdalene College's Biblioteca Pepsyana, walked us through the park, telling us anecdotes about old students of the College, the rowing competitions, stories of Nelson Mandela's visit and paying a compliment or two to the College's new gardener (well earned!). Afterwards, we were taken to his home, which already smelled amazing, all thanks to Mrs Cornish and their hit dish. Omnivore or vegetarian, the tried and tested roasted chicken and/or potatoes with broccoli, gravy or béchamel and homemade redcurrant jelly were as good as anything we had previously eaten at the Inner Temple and the colleges (and those meals shattered every last stereotype about bad English food!). After a few glasses of wine and a cosy discussion by the fireplace, we were out like a light.
We're very grateful to everyone that made this opportunity possible, the many student teams, their coaches and mentors, the professionals, the organisers. Thank you to AG Sharpston for making us think and act like lawyers, participating in the formation of this developing legal system of the EU; thank you to Denise, enabling the competition, as well as the trip to Cambridge, to run smoothly (or in fact at all!), thank you to Mrs Ann Smith for giving us the help we needed in navigating Cambridge, and finally, thank you to Bill and Lovedy for welcoming us into their home and for that warm cup of tea on our last morning in Cambridge.
We hope to see you again.